Hey Las Vegas People: Here Are 6 Beaches That Are Just A Drive Away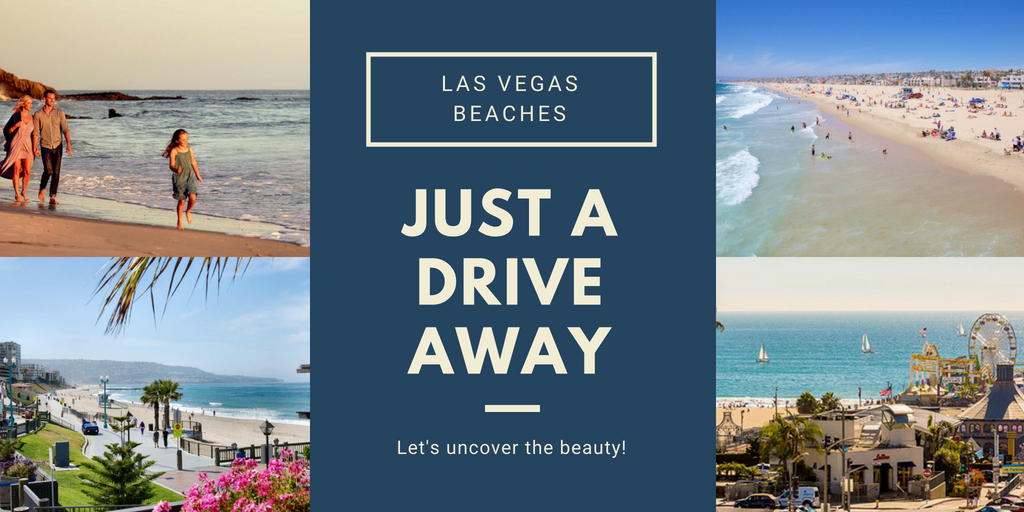 Living in Vegas has bundle of perks and one such benefit is a short drive to stunning California beaches. Located along the California coast, these sandy beaches offer a different and pleasurable feel to the visitors. Whether you are a sand-dweller, surf-minded or snorkeler, your wishes will come true.
Best part about these mesmerizing water & sand beauties is their close proximity to LV. A drive that's less than 5 hours, takes you to the destination. On that note, let's uncover these six beautiful beaches:

1. Hermosa Beach

Time to reach: 4.5 Hours

When here, play on the volleyball courts or enjoy the best times by indulging in water activities, the beach offers. If you are an active beachgoer and go gaga over surfing, adventure and swimming, Hermosa Beach is a must to visit. If you are more of subtle person, come here and unwind on the soft sand and clean waters.

2. Santa Monica

Time to reach: 4.5 Hours

This one is a culturally rich town and popular for a number of reasons. This extraordinarily influencing beach town is famous for a variety of reasons that go from farmers' market to iconic Ferris wheel to its pier and more. Apart from usual sand and waves, the vibrant community here offers so much to the travelers as well as to the locals. Best way to live up here is, splitting the day between the beach and the pier, as this lets you absorb the colorful atmosphere deeply.

3. Laguna Beach

Time to reach: 4 Hours

Now this very beach calls you with warm and cordial feelings. Laguna Beach is home to one of the oldest surf contests, Brooks Street Surfing Classic. Volleyball and skimboarding are hosted here; hence, if you admire these sports, you got to come here for sure. Besides being a quintessential California beach, this place is a community with a rich arts & theater history. Make sure stopping by the Laguna Art Museum and Laguna Playhouse. If coming here around July and August, do check out the Festival of Art.

4. Redondo Beach

Time to reach: 4.5 Hours

Pier of the beach credits the destination with a bonus point. Stand in the remarkably shaped pier and gaze at the tides that go in and out. The pier has got a funky and unique shape after adapting well with storms and the merging of separate wharves. During the sunset, the pier lights up and everyone explore the shops and amazing historic restaurants.

5. Manhattan Beach

Time to reach: 4.5 Hours

This heavily-trafficked and affluent beach is loved by visitors like anything. You can walk down the pier or visit the Roundhouse Marine Studies and Aquarium. Though the historic pier is the surfing hot spot, you can also bodyboard and fish. Must say, Manhattan Beach is a wonderful spot for the volleyball players and for the active beachgoers as well. Go for biking or wander or run down The Strand, Manhattan Beach's prime path alongside the beachfront houses.

6. San Diego

Time to reach: 5 Hours

Despite a few extra minutes, trip to this beach is worth it. The beautiful beaches also have La Jolla Cove, renowned for the vibrant wildlife and calm waters. Waters at La Jolla Cove are protected or in other words, surfing isn't allowed. However, kayakers, snorkelers and divers are still there.
Imagining yourself on the beach land already? Live it for real and travel to the Sin City in the coming holidays. Share the good news with the ones you will be taking along with you.
See Listing of your dream home.…. https://bit.ly/2oukkMj